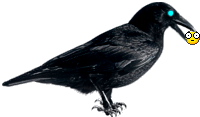 Lots of ways to contact me:
virtually
Twitter: @murphy_karasu (murphy as the guy with the law, karasu as Japanese for "crow".)
Skype: kalnbach.
E-Mail: murphy rubychan de – you'll know how to turn this into an email address unless you are a spam bot.
physically
Write me a mail and come to Berlin, Germany.
telepathically
Wow!
officially
If you need my real name: Kornelius Kalnbach.
anonymously
Just comment here. Our server keeps access logs, of course, but I won't trace you further ;-)